This blog has had too much time to cool down. Now it is time to get it cooking again and serve up some delicious info on the latest travel adventure.
My interest in international travel and development was noted a few years ago by my alma mater, Michigan State University. They have invited me to conferences about the direction of their international programs. This year they invited me to accompany a small group of people to observe some of their programs in Tanzania. Of course I accepted because things like this are very educational in giving one a perspective on what is really going on in a country with the people, the villages and the development in a fast changing world.
The trip started with a flight from JFK to Amsterdam. There were strong tailwinds and we arrived in Amsterdam and hour early. That left me with a 5 hour layover. Thankfully, I am traveling in business class and was able to spent the time in a lounge instead of sitting at a gate. At about 10:00 am local time I boarded the flight to Kilimanjaro airport in Tanzania. Unfortunately, I felt like I had some sort of stomach bug and although the plane was comfortable enough, it wasn't really a comfortable flight for me. I have no idea what it could have been as I had eaten very little. Nevertheless, I arrived in good time, cleared immigration and customs and there was someone from MSU, along with a driver, there to meet me. After getting into my room I was feeling much better and attended the meet-and-greet with the other participants.
Despite the long hours of travel and the time change I was able to get in a reasonably good night of sleep. Sometimes it is good to have too much time to rest with nothing on the agenda that you feel like you should be doing. We had a nice breakfast at the hotel. I had the option to visit a hospital with some in the group but on consideration I thought it best to skip that. I have had some health issues this year and it occurred to me that maybe I should stay away from hospitals, particularly in Africa, if I have the option.
Instead, about five of us opted to visit a cultural center in Arusha. It is a place that is privately owned but is filled with art and crafts. Although much of it looks like a museum, everything is for sale. It is an impressive place. Architecturally, it is over the top. The art gallery is on a spiral like the Guggenheim in New York. Some of the carved ebony figures are amazing. I was surprised at some of the asking prices for the art. It ranged from about $400 to $12,500. Not being an expert but having an appreciation for original art it seemed overly pricey, especially for that part of the world.
It looks like the place is really making it's money on selling Tanzinite stones and jewelry. They claim that Tanzinite is 1000 times rare than diamonds although it is not as hard.
In the evening the group got together for dinner and then turned in for the night.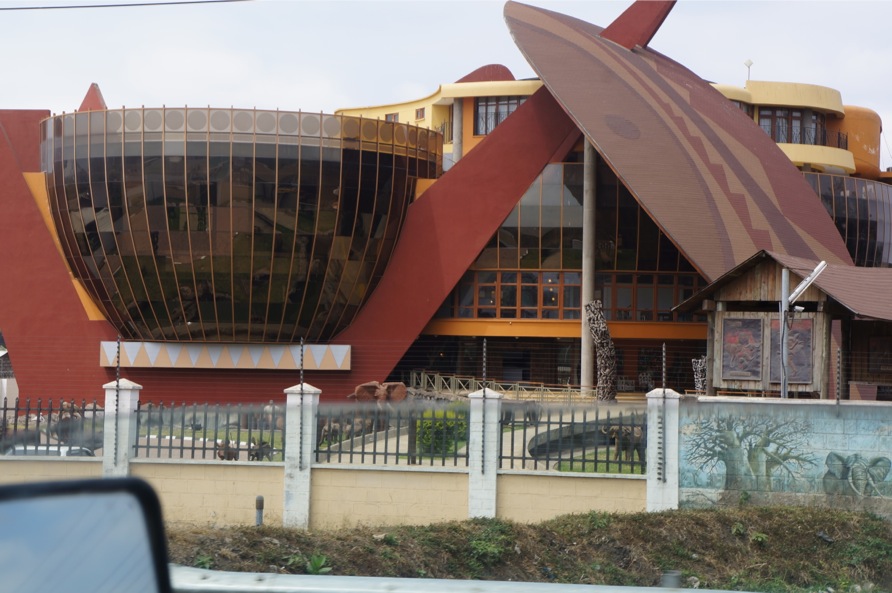 The Cultural Center.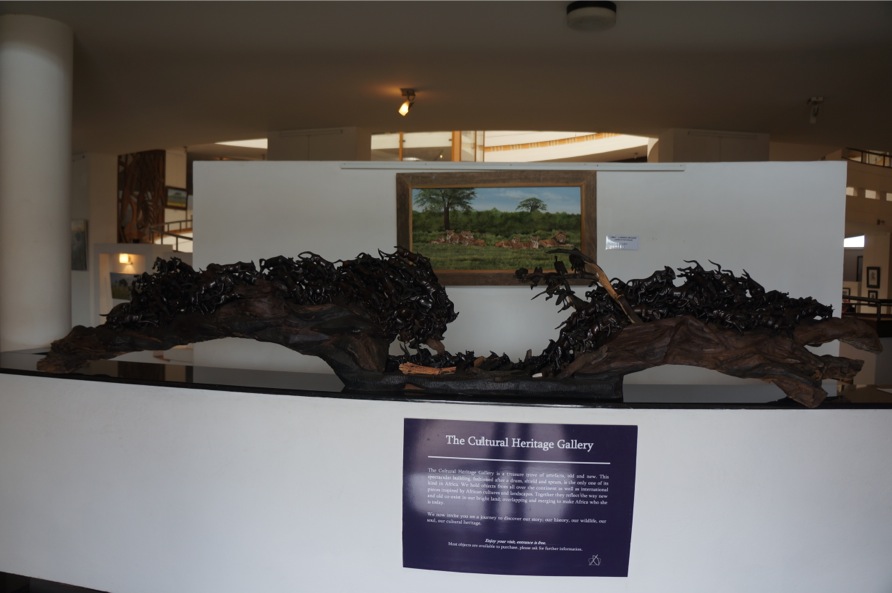 An amazing piece of sculpture. This whole thing was carved out of a single piece of Ebony. There were similarly impressive pieces carved in the same manner.