Today is the last day of the work project. We are tidying up things. A group went over to the house that was being painted and repaired to do the finishing touches. Another group of us were at the building site. We moved the 750 blocks that had been delivered the day before to a different area that would be out of the way. I'll tell you, those suckers are heavy. They aren't the chintzy clay bricks. They are heavy cement blocks with a lot of aggragate.
When it got close to lunch time Mike sent me out with Beanie and the deacon's wife to go to the market for lunch provisions. We went to a Spar supermarket in a strip mall that was not that different from an American supermarket. There was a lot of fresh produce and baked goods. We then went a few doors down to a meat market to get cold cuts for sandwiches. The shopping mall was quite busy. I was told that since it was the last Friday of the month people were getting paid and were buying groceries and other items before the lottery and the liquor store got the money that was left.
Well, I don't mess around. We got back and ate lunch earlier that we had all week. It was noticed. One of the heartwarming things about this project is that we also feed the paid workers and anyone else that is on site. They share the same food we eat so this is a real benefit for them. We are careful to avoid class distinctions. These are good, hardworking people and get too little for the work they do. We are more than happy to give them the benefit of a free lunch.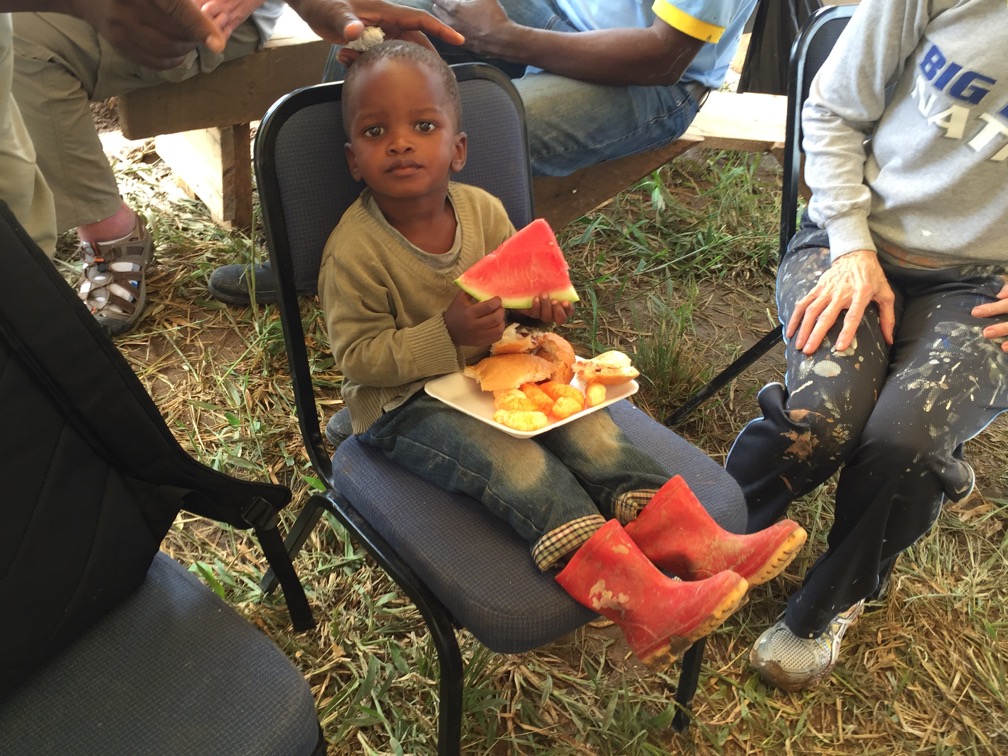 Ah, watermelon! One of the wonders of the world. I love watermelon! This little guy is the youngest of two boys of the family that lives in the little house at the build site and act as security guards for the materials. We fixed up their house. He certainly enjoyed lunch each day.
After lunch the deacon took Ben (the archeologist that works in Beijing) and I around on a side trip to see Lusaka. Considering everything, it is not a bad place. We did see a pretty desperate slum not far from the school we were working on. The school is intended to educate children from that slum. Otherwise, there is a middle class. The government buildings are not grandiose. The traffic is not bad. We are surprised at the few number of motorcycles and scooters. Many of the developing countries are being overrun by scooters. There is also a notable lack of bicycles considering that there are a lot of people walking.
After the personal tour we returned to the site. The day was cut a bit short as there wasn't much that we could do so we said our goodbyes. Tomorrow we are off to Livingstone.